Wedding Day Timeline - 4pm Ceremony for Washington DC Area Weddings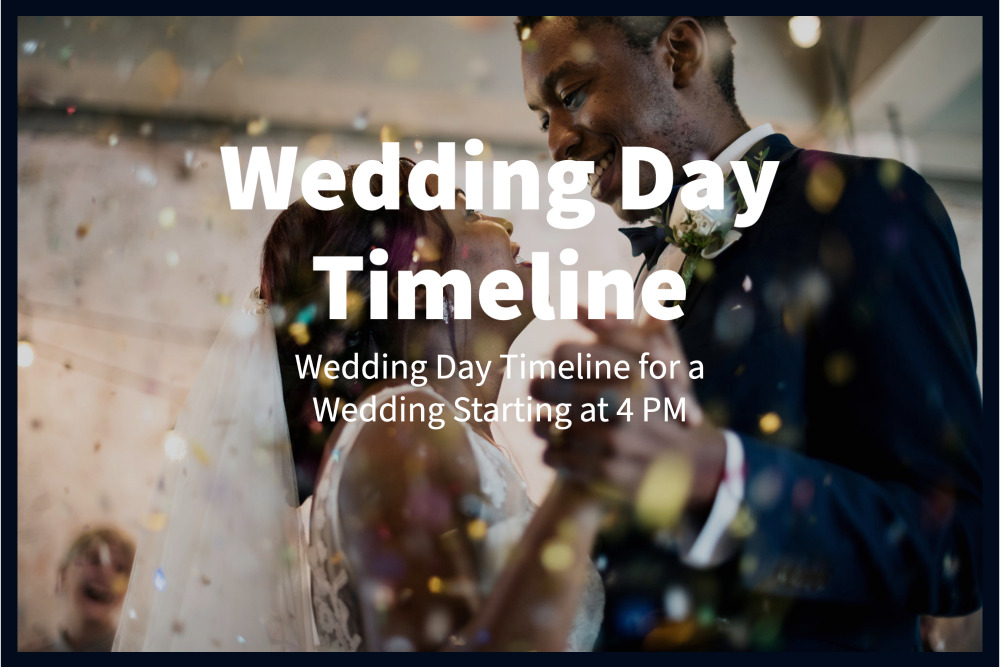 During the wedding planning process, you will have to create a wedding day timeline.
Your wedding day timeline is a timeline of your wedding day that you must plan and prepare before your wedding to help you have the perfect day.
Ideally, you want to prepare your wedding day timeline before your wedding rehearsal.
It is important to have one because it will help keep you organized and on track for the entire day and let you know what items should be done and at what times.
But how do you create a timeline for a wedding that starts at 4 pm?
I'll show you and also give you a sample timeline.
Have Everything in Place
Before you create your wedding timeline, you should have everything in place.
You should have your wedding date secured with the venue and all your vendors paid and ready to go.
Your vendors may include:
Caterer

DJ

Photographer

Videographer

Get-a-way car (limo)

Officiant

Band or Strings (if you have hired one)

Venue for ceremony and reception

Florist

Bartenders

Baker

Hair and makeup
The other things you need to keep track of are:
Wedding dress

Rings

Groom's tux

Tables and chairs

Stationary and signs

Guests list
Planning your wedding and need help?
Get a professional to help you.
If you hire a professional wedding planner or a day-of wedding coordinator, they will make sure you have everything in place and take care of everything for you.
If you didn't hire a planner or coordinator to help you, here are some tips that can help you create your wedding timeline:
1. Wake up Time
Decide what time you want to wake up on your wedding day
You may want to consider getting up early so you can have some time to relax and get ready for the day ahead.
If you're having your hair and makeup done, make sure to factor in enough time.
2. Block Out Time for Breakfast
You will need some fuel to help you get through the day.
Whether you are having breakfast at home or at the venue, make sure to give yourself time to eat and relax before the wedding festivities begin.
3. Factor in Travel Time
We all know that the Washington, DC area is notorious for traffic.
If you're getting ready at a different location from where your ceremony and reception is taking place, make sure to factor in travel time.
You don't want to be rushed or stressed out on your wedding day because you are in a traffic jam on New York Ave or the 495 beltway.
4. Create a List of People to Help You
You will need to ensure that everyone involved in the wedding knows what time they need to be where.
Make a list of all the people who need to be at the ceremony and the reception, as well as their contact information, so you can easily get in touch with them if needed.
5. Getting Ready Time
Figure out how long it will take you to get ready.
This includes getting hair and makeup done for you and your bridesmaids and putting on your wedding dress.
You may want to add an extra hour to account for any unexpected delays.
6. Time for First Look Photos
If you're planning to do first-look photos, you must plan time for it.
Ask your photographer how much time they will need to take first-look photos.
If you plan to do it, add the time to your timeline.
7. Allocate Time for Your Wedding Ceremony
The ceremony is the most important part of the day, so you will want to make sure you have enough time allotted for it.
Factor in travel time to and from the ceremony site, and any other activities that will be taking place before or after the ceremony.
Most wedding ceremonies last one hour, and some may last only 30 - 45 minutes.
Ceremony activities may include:
Groom and groomsmen entering

Bridal party entering

Officiant welcoming guests

Readings

Songs

Prayer

Exchanging of rings

Vows by you and your partner

Pronouncement of Marriage

First kiss

Exiting the ceremony
8. Time for your Cocktail hour
The cocktail hour is the time between the ceremony and the reception.
Make sure you include time for your cocktail hour so you can mingle with guests and take quick pictures with friends.
9. Budget Time for your Reception
The reception is where you will celebrate your marriage with your friends and family.
Make sure to budget enough time for dancing, eating, drinking, and socializing.
You will also want to make sure you have time for speeches and cake cutting.
Wedding reception activities can include:
Parents introductions

Bridal party introductions

Your grand entrance

First dance

Father and daughter dance

Mother and son dance

Dinner

Dancing

Bouquet toss

Garter toss

Toasts

Cake cutting

More dancing

Special send-off

Vendors start cleaning up
Wedding receptions can last up to 5 hours.
10. Set Aside Time for Photos
You will want to ensure you have time set aside for wedding photos.
If you're taking pictures in another location, you will want to factor in travel time to and from the photo locations, as well as the time it will take to take photos.
Factor in time for wedding party photos, bridal party pictures, wedding dress photos, and family pictures.
11. Plan for a Late Night
A wedding that starts at 4 pm may not end until midnight.
You may be tempted to party all night long, but you will need to leave the venue on time so that you don't have to pay for going over your contracted time and to save energy for your honeymoon.
Plan to end your wedding at about 1 am so you can get some sleep.
Even though you plan to have your wedding ceremony at 4 pm, you must plan to get an early start.
It is important that your wedding planner or day of coordinator prepare a wedding day timeline for your 4 pm ceremony.
Need someone you can trust to help plan your wedding?
Call Monica Browne Weddings.
Timeline for Ceremony and Reception at a Maryland Wedding Venue
Here is an example of what a wedding day timeline - 4 pm ceremony for a wedding at the Newton White Mansion in Maryland can look like.
In this timeline, the bride and groom get dressed at Newton White Mansion.
Wedding Timeline for Newton White Mansion Wedding
10:00 am

Venue access

Bride and Bridal party arrives

Hair and Makeup artist arrives

Hair and makeup services will begin

Day-of planning team will check in with bride and bridal party

10:30 am

Decoration team arrives

1:30PM

Day of plannner assistant arrives

2:00 pm

Caterer arrives

Photographer arrives to begin taking pre-ceremony photos

Day of coordinator lead arrives

2:30 pm

DJ arrives

Wedding cake arrives

3:00 pm

Officiant arrives

Groom and groomsmen arrive

All vendor setups must be complete

3:15 pm

DJ will begin playing pre ceremony music

3:30 pm

Guests arrive

4:00 pm

Processional/Wedding Ceremony begins

Mother/Family enters

Groom, best man, officiant enters

Bridal party enters

Ring bearer enters

Maid of honor enters

Flower girl enters

Bride enters

Marriage vows

5:00pm

Ceremony ends

Cocktail hour begins

5:50 pm

Invite guests to be seated for reception

6:00pm

Cocktail hour ends

Reception starts

6:10 pm

Bridal party introductions

6:15pm

First dance

6:30 pm

Dinner service begins

Bride and groom served dinner

Guests called to buffet line

7:00 pm

Toasts

8:00 pm

Bouquet toss

Garter toss

8:15 pm

Parent dance

8:30 pm

Cake cutting and cake served by caterer

Dinner service ends

8:45 pm

Dance floor opens up

9:00 pm

Pack up gifts

10:00 pm

Bride and groom say thank you

11:00 pm

Reception ends

Vendors start clean up

1:00 am

Everyone offsite/ venue closes
Final Thoughts
A wedding timeline is a document showing the schedule of events that need to happen on your wedding day. It details everything from what time the bride and her bridal party should arrive to what time the dancing and celebrations start.
You can create your own wedding timeline, or if you hire Monica Browne Weddings, we will create one for you.
Having a timeline helps to ensure that everything runs smoothly on your big day.