Things to Consider When Planning a Wedding at Night in Maryland
When planning a wedding, many couples choose to have a daytime wedding.
However, for those looking for a more dramatic and romantic setting, a wedding at night can be a great option.
A night wedding is typically held under the night sky, which can create a beautiful atmosphere with other wedding decorations, such as candles, fairy lights, and other forms of special lighting.
However, there are also some challenges to consider when planning a nighttime wedding.
In this article, we'll discuss the key things to consider when planning a night wedding so that you can create a beautiful and memorable night event.
What is a Night Wedding
A night wedding is a wedding that takes place in the evening or at night, usually after sunset.
Night or evening weddings can be very romantic and offer a unique and elegant atmosphere that differs from daytime weddings.
The wedding ceremony and reception typically occur under artificial or decorative lighting to create a magical and romantic scene.
Things to Consider When Planning a Nighttime Wedding
The following is a list of things to consider before planning a wedding at night.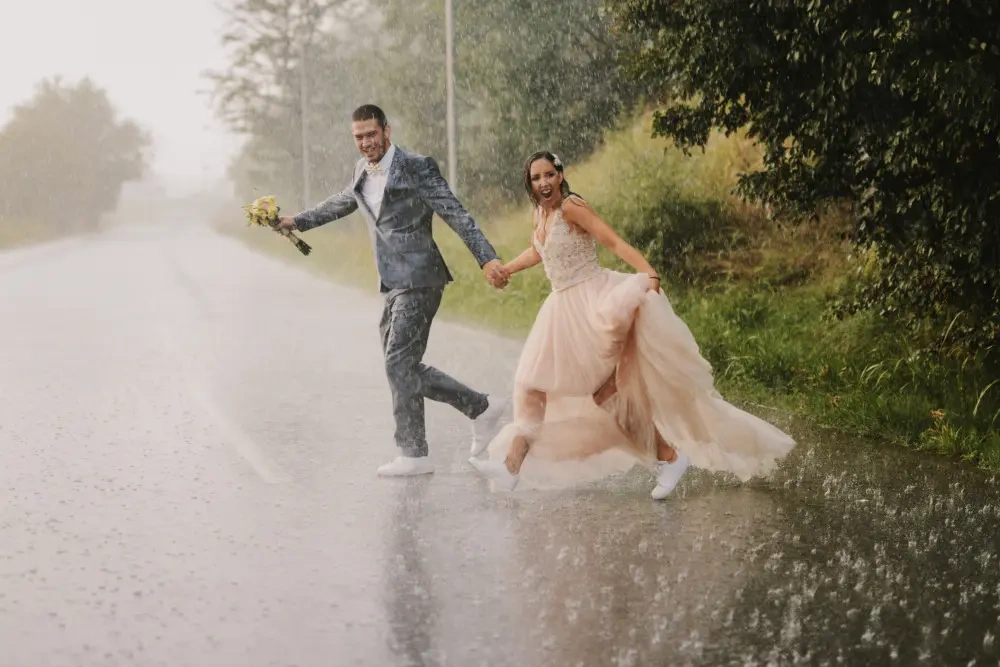 Weather and Temperature
You know how the weather is if you live in Maryland and the DC metro area.
It can change at any minute.
One minute it's 30 degrees outside; the next, it's 70 degrees.
And that's in February.
The weather and temperature are important factors in planning a night wedding.
Mainly, you want to avoid having an evening wedding in winter.
Because it may be too cold.
Your guests may feel uncomfortable in the cold weather, and you may have to provide extra heat, which may add to your wedding costs.
And if it snows or rains, it can be dangerous for everyone.
You don't want anyone driving in the sleet or snow to get to your wedding. You may have many no-shows or a wedding with few guests.
Don't just think the temperature affects weddings in the cold months. It also affects marriages in the summer months.
Summers can be brutal in the DMV, so choose a venue with air conditioning or plenty of fans.
If your wedding is outdoors, consider having a casual celebration rather than a formal one and encourage guests to wear lightweight, breathable fabrics.
You don't want your guest complaining about the heat.
You want them to focus and you and enjoy themselves.
Time of the Year
When planning a night wedding, it's essential to consider the time of year.
The season can impact everything from the weather to the availability of decoration elements like flowers, and it can affect the overall vibe and feel of your wedding.
For example, if you're planning a winter night wedding, use warm lighting and cozy decoration elements like blankets and hot cocoa to create a relaxing atmosphere.
On the other hand, if you're planning a summer night wedding, you should take advantage of the longer daylight hours.
You can have your ceremony and reception take advantage of a beautiful sunset and the stars at night.
Ultimately, you'll want to choose a date and time that works well for you and your guests while also considering the unique aspects of the season you'll be hosting the wedding.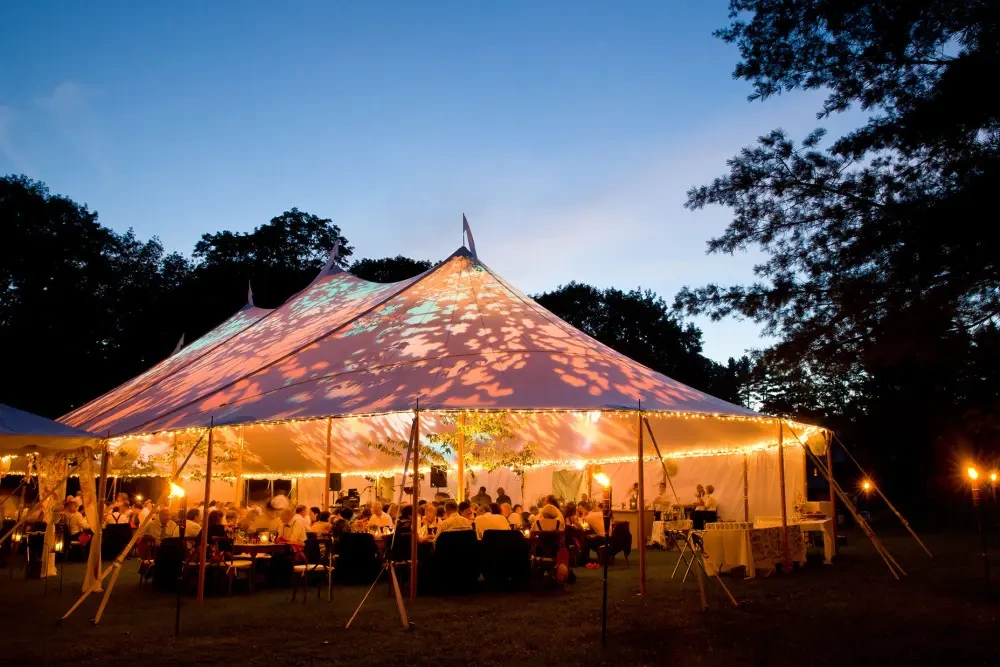 Wedding Venue
Choosing the right venue is an important consideration when planning your nighttime wedding.
For daytime weddings, it's pretty straightforward, but for nighttime weddings, things can get complicated and tricky.
Not all venues are favorable for hosting a nighttime event.
It's essential to find a space that works for you.
Things to consider at your venue include the following: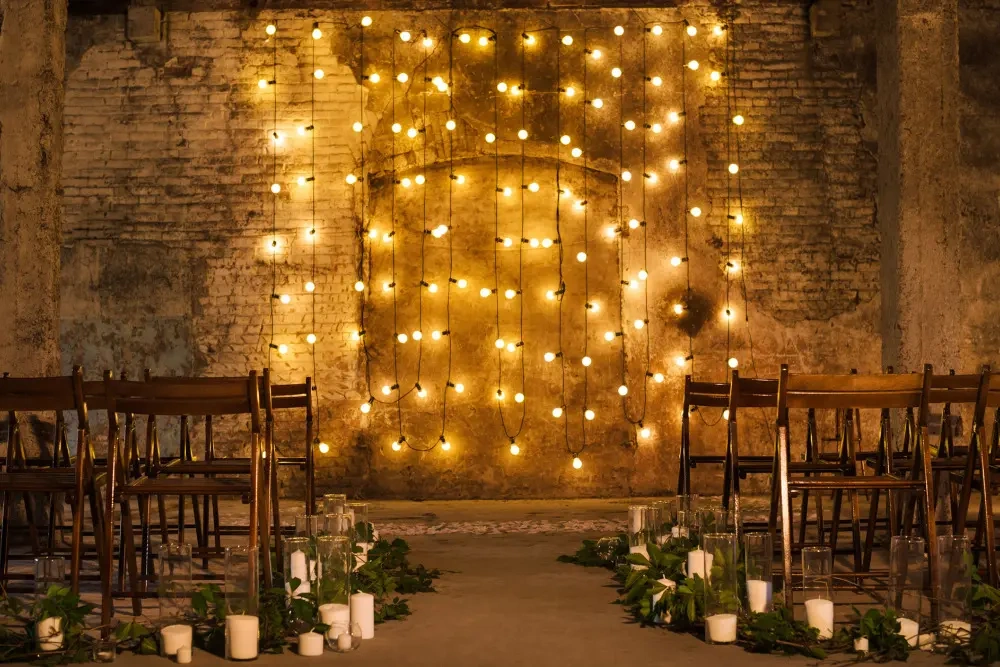 Lighting
One of the most important factors to consider when choosing a venue for a night wedding is lighting.
When deciding on lighting, it's essential to consider the mood you want to create and the practical considerations for your venue and decor.
The proper lighting can create a romantic and intimate atmosphere and highlight the beauty of your venue and decor.
You'll want to choose a space with plenty of natural or artificial light that allows you to adjust the lighting to create the right atmosphere easily.
You may also incorporate many candles, string lights, and other special lighting effects and other decor elements that suit your theme and personal style.
You'll also think about arranging the lighting to create the right ambiance. Setting the lighting might include using uplighting to highlight the architectural features of the venue or incorporating soft, diffused light to create a romantic glow.
Location
So you're having your wedding in a vineyard at night, but where?
Is it in the area or far out in Maryland?
Is it a few miles away at Running Hare Vineyard in Calverton, MD, or a hike to Linganore Wine Cellars in Mt. Airy?
How far your wedding venue is for your evening wedding is an essential factor to consider.
Why is it an important event?
Curfews
Some venues may have noise restrictions or curfews that could damage your plans. These restrictions include curfews requiring the event to end by a specific time, so confirming any restrictions details with the venue is essential.
Noise Restrictions
Noise restrictions are an essential consideration when planning an evening wedding, as many venues or locations may have specific rules or regulations regarding noise levels.
These restrictions might include decibel limits that prohibit loud music or other noises.
Researching and understanding any noise restrictions that apply to your venue or location is essential because failure to comply could result in fines or other penalties.
Although you may want the nightclub vibe, you may have to minimize the noise and ensure compliance with noise restrictions. You may have to adjust your entertainment plans or select a more suitable venue for a nighttime event.
You can also work with your vendors, such as your DJ or band, to ensure that they are aware of any noise restrictions and can adjust their volume or pacing accordingly.
Dress Code
Selecting the proper attire is essential for any wedding, especially for a night wedding.
The time of day, the season, and the weather will all play a significant role in deciding what attire is appropriate.
Although formal wear or cocktail attire is typical for evening weddings, it should depend on the weather, the time of the year, and whether your entire wedding will be indoors or outdoors.
When choosing wedding attire, especially if your wedding will take place outdoors, you may want to spring for clothing that fits a casual celebration.
It's up to you.
Food and Drink
Food and drink are essential elements of any wedding. They are necessary to consider when planning a nighttime wedding.
Depending on your event's length, you may need to provide guests with a full meal, snacks, or other refreshments.
You'll want to consider timing, alcohol consumption, and dietary restrictions when selecting food and drink options.
For example, suppose your event includes a cocktail hour or reception. In that case, you can provide a variety of appetizers or small bites for your guests to enjoy.
If your event is longer, offer a full meal or multiple courses to keep guests satisfied throughout the night.
You should also consider any alcohol consumption at the event and provide non-alcoholic options for guests who choose not to drink.
Entertainment
Entertainment is a crucial element of any wedding, and this is especially true for a night wedding.
Choose a live band or classical music. A more casual event might call for a DJ or other contemporary music.
If outdoors, make sure you have a dance floor.
You might also consider having activities like games like Cornhole, Jenga, ladder toss, or a photo booth to keep guests engaged and entertained.
Wedding Vendors
Choosing the right vendors is essential for any wedding, especially at night.
Vendors such as photographers, caterers, and florists can play a crucial role in helping to create the right atmosphere and to ensure that everything runs smoothly.
When selecting vendors, it's essential to keep a few specific considerations in mind.
For example, you'll want to ensure that your photographer and videographer are comfortable working in low-light conditions and can capture your event's unique ambiance.
Similarly, your caterer should be experienced in preparing and serving food in the evening and should be able to work around any potential noise or lighting issues.
Consider hiring a wedding planner or coordinator to help manage the logistics of your evening wedding and to ensure that all vendors are on the same page.
Transportation
Transportation is essential, as it can impact guests' ability to attend and enjoy the event.
Depending on the location and timing of your wedding, your guests may need to arrange transportation to and from the venue.
You'll want to consider factors such as distance, parking availability, and safety when planning transportation arrangements for your guests.
Suggest carpooling or other alternative transportation options if parking is limited or difficult to find.
Safety is also essential when planning transportation, especially if guests drink alcohol at the reception.
Consider providing a shuttle or other transportation option to ensure everyone can get home safely.
Wedding Timeline
A wedding timeline is a crucial wedding document, especially when planning a night wedding.
You'll need to carefully consider the timing of the various events, including your ceremony, reception, and entertainment, to ensure that everything runs smoothly and that your guests enjoy the event.
One crucial factor to consider is the timing of sunset, as this will impact the lighting and overall atmosphere of your wedding.
Depending on the season and location of your wedding, the timing of sunset can vary widely, so be sure to plan accordingly.
Consider the duration of your wedding and allow enough time for all the events you want to include and time for guests to arrive and depart.
Additionally, consider your guests' needs and preferences and plan your schedule in a way that works well for everyone.
By carefully scheduling your night wedding, you can ensure that everything runs smoothly and your guests have a wonderful time.
Final Thoughts
In conclusion, a wedding at night can be a magical and romantic experience that can also set the tone for your wedding night.
A ceremony that takes place after dark creates a unique and elegant scene that is much different from a daytime wedding.
Planning a night wedding requires careful consideration of factors such as lighting, temperature, music, and transportation for guests.
The right music, lighting, and decor can create a festive and celebratory atmosphere for the reception.
Ultimately, the goal is to create a memorable experience for the couple and their guests that they will cherish for years.